---
---
Global Economic Weekly Talk therapy for inversion aversion
---
Global Economic Weekly Brexit- ever-shifting sands
US Economic Weekly Step away from the flashing screens
Europe Economic Weekly This year is not over yet
Asia Economic Weekly Singapore- Preparing for a challenging year ahead
---
Global Economic Calendar 2 – 7 December
US Economic Weekly Keep calm and hike on
Europe Economic Weekly 2019 Year Ahead- Find time to pick the right time
Asia 2019 Year Ahead Policy to be held hostage by growth headwinds and trade uncertainty
---
World at a Glance 2019 – the year ahead 
US Calendar of Business Indicators 2019 US Calendar of Business Indicators
GLOBAL GROWTH IS DETERIORATING
"It's only going to get worse from here."
That's the key takeaway from our analysis of global growth trends. Economic growth in Japan and the Eurozone just hit multi-year lows. Data out of China continues to slow. Cracks are showing in recently report U.S. Industrial Production and Retail Sales data. Not good.
In this week's Market Edges, we dissect slowing global growth:
Client Talking Points: An update on Wall Street consensus positioning and U.S. inflation data.
Chart of the Week: A must-read on our updated GDP and inflation forecasts for 4Q 2018… Spoiler alert! It's not good.
Sector Spotlight: What does #Quad4 mean for credit markets? We've got you covered with insights on the $2.5 trillion in BBB paper.
What the Media Missed: CEO Keith McCullough explains what he's been telling institutional clients in recent meetings.
Around the World: Senior Macro analyst Darius Dale dissects why recent economic data globally "continues to deteriorate."
Happy Macro Monday! Good luck out there this week.
WEEKLY ASSET ALLOCATION
We are currently working on a complete overhaul of our asset allocation model. This new updated asset allocation will better reflect our current market outlook and draw extensively from our Growth, Inflation, Policy (GIP) model. In the interim, below is our 'GIP Model Risk Management Overlay' to better guide your asset allocation decisions. CLICK HERE to watch a brief video about our GIP model.
CLIENT TALKING POINTS
WALL STREET POSITIONING, INFLATION, GLOBAL GROWTH
1. Wall Street Consensus Positioning
U.S. Equities: Consensus moved longer of S&P 500, Russell 2000, & Dow contracts week-over-week and shorter of Nasdaq contracts. There are no major trending shifts to call out in equity derivative contracts.
Fixed Income: 10Yr net positioning is LONGER w/w and 2YR, 5Yr, & 30Yr open interest is SHORTER on the margin w/w. 3Yr Z-score factors on 2Yr & 30Yr open interest are #1 & #2 SHORT leans in global macro.
Currencies: Mixed bag; With USD move m/m, positioning is relatively longer, but this has by no means created a clear trend across currency markets. See the table below for details.
Commodities: Of the 20 commodities where we track speculative futures & options open interest, consensus is SHORTER on the margin month-over-month in 15 of those 20… That's with the CRB Index as a whole -6.2% m/m and the USD Index +1.5%… Crude oil is the #1 consensus short lean (TTM Z-Score). The absolute net long position in crude oil (# of contracts long) is lowest since August of 2017.
Takeaway: Consensus is marginally BEARISH in many markets that drive headline inflation in real-time. This was something we outlined as a risk in an inflation decelerating, strong USD environment this quarter. That was factually our call.
2. The Big Picture Update on Inflation
Headline CPI accelerated +20bps to 2.5% YoY in October. Core CPI decelerated -10bps to 2.1% YoY. Both Headline and Core are now trending sideways. Driving the acceleration in headline figure was the incredulously unsustainable +399bps acceleration in Energy CPI to 8.84% YoY.
Softening global demand, strong dollar and the acute careening in commodity/energy prices all accelerated in November, a reality reflected in both inflation expectations and nominal yields MTD and whose impact will flow through Headline CPI more discretely next month.
Our updated CPI forecasts have Headline CPI averaging a 1-handle next quarter with limited upside from there. We continue to think Powell will be forced to pivot dovish by late-January. Quad 4 Deflation ultimately leads to falling inflation expectations and … drumroll… falling bond yields.
3. When Will The Global Slowdown Hit Bottom?
Asia, Europe and Emerging Markets have all been in a synchronized slowdown throughout much of 2018. Several key market indices there are in full-blown crash mode and have fallen over 20% from their year-to-date peaks.
–> The important question now: when will those equity markets bottom and look investible on the long side again?
Getting ahead of the crowd is a huge part of what makes Hedgeye tick. Our Macro analyst team believes several countries could begin turning the corner into buying opportunities in 2019. But Macro analyst Darius Dale warns investors that there is "still a ton of risk to manage" when it comes to global markets.
"We think the Fed pivoting dovish would put the floor in and around these beleaguered asset classes and markets," Dale explains in the video below from a recent edition of The Macro Show. "But it's November 12th. This is definitely an early-to-mid Q1 [2019] event."
CHART OF THE WEEK
AN UPDATE TO OUR GROWTH, INFLATION, POLICY MODEL
We continue to see a slowdown in U.S. growth and inflation in 4Q 2018. That's not an opinion. It's born out by the data.
The YoY growth rate of Industrial Production – currently the highest weighted of 30 factors in our predictive tracking algorithm for U.S. Real GDP growth – plunged -149bps to 4.11% in OCT.
The Control Group for Retail Sales (#2) decelerated -10bps to 4.5% YoY, while Headline Retail Sales (#3) accelerated +40bps to 4.6% YoY; both are down on a quarterly average basis at -113bps and -43bps, respectively. Expect a gap down to a 3-handle growth rate when the NOV data for the all-important Control Group (which feeds directly into the GDP calculus) is released a month from now; it's comparing against its cycle-peak sequential and annual growth rates of 1.2% MoM and 5.91% YoY. If you didn't know rich people front-ran the passage of tax reform, now you know…
The net result of these data is that our nowcast for Real GDP growth in 4Q18E dropped -3bps and -11bps, respectively, to 2.76% YoY/1.18% QoQ SAAR. It's worth noting that 2.76% is precisely where we started Q4, as our initial estimate for growth or inflation in any quarter is generated by our proprietary comparative base effect model until the factors in our proprietary nowcast models are reported. It's also worth calling attention to the Bloomberg Consensus and Atlanta Fed forecasts of 3.11% YoY/2.64% QoQ SAAR and 3.16% YoY/2.76% QoQ SAAR, respectively.
No wonder nearly everyone we meet with wants to know when we go back to Quads 1 and 2:
Those are the types of exposures they remain long of; and
Old Wall economists are forecasting more pie in the sky.
All told, the economics profession remains in desperate need of creative disruption. Hopefully these little bean counters in CT are doing our part!
TOP 5 STATS
SECTOR SPOTLIGHT
WHAT #QUAD4 MEANS FOR CREDIT
Is General Electric really a "Triple B Credit?" Is the approximately $2.5 TRILLION in "BBB" paper out there not some form of an "imbalance" and/or bubble? Like from the crypto crowd back in DEC of 2017, I don't expect to receive positive mail on this topic today.
As long-time subscribers to our 4 Quadrant Risk Management #process know, when the US economy enters Quad 4, you short, sell, and/or de-risk the following 3 exposures in Fixed Income:
High Yield Credit
Junk Bonds
Converts and TIPS
And you buy US Treasuries, across the curve. If you've already shorted any or all of those exposures in November against a portfolio of UST Bonds, you're beating at least 80% of the Credit Hedge funds out there.
So while much of the newsiness in credit this week has been about GE and IG yields/spreads… here are a few simple contextual references on spreads & yields:
Aggregate Investment Grade Spreads (based on USOAIGTO Index) have widened out to +119bps. +20bps of it has come in the last week. That's the widest spread since June 2017
If we focus specifically on Yields on the Edge of "IG" [IGUUBC10 Index captures BBB-, BBB, BBB+], at 4.74% currently, yields are highest since April 2011.
Interestingly, we've seen little to no movement in realized volatility or volatility expectations (implied) in LQD (i.e. the Investment Grade Corporates ETF). Realized volatility remains near its YTD lows. For context, the ETF is 46% BBB credits & 40% A credits.
Also some tidbits on High Yield & Junk Volatility:
The high-yield corporate bond volatility index (VXHYG) is +75% in just the last week alone
If we zero-in on just at-the-money front month hedging costs, HYG & JNK IVOL is +74% & +47% w/w, respectively. These are both top 3 moves in our global macro universe >120 tickers across equities & FICC
Takeaway: The obvious takeaway is that growth slowing and corporate profits slowing is going to unmask risky credits and create more dispersion from a return and spread perspective.

WHAT THE MEDIA MISSED
EARLY LOOK: AFTER THE SELLOFF
Below is a key excerpt from a recent Early Look written by Hedgeye CEO Keith McCullough.
Short at lower-highs and cover lower, eh.

Maybe we'll get another one of those bounces to lower highs in the next 4 days. Since I'm in Boston for 3 days, I'd certainly appreciate a bounce before I walk into certain meetings! There's nothing like a bounce to get people to believe a selloff is over.

Since we're the only firm to have gone bearish on China, EM, and Europe pre going bearish on US growth and inflation, it's important to contextualize the recent 4-day selloff in the US as only part of the 2018 Global #GrowthSlowing story.

As of this morning's market prices, here's a summary of some of the crashing interconnected parts:
Chinese Stocks (Shanghai Comp) have crashed -26.1% since JAN
South Korean Stocks (KOSPI) have crashed -20.4% since JAN
Italian Stocks (MIB Index) have crashed -22.4% since MAY
Greek Stocks (ATG Index) have crashed -28.9% since JAN
Oil (WTI) has crashed -26.9% since OCT
And you thought having to be up +15% (from here) in the Russell 2000 to get back to break-even with where the IWM chart peaked at the end of AUG was bad? Oh boy…
Let's forget that the NASDAQ is down -11.2% since the end of AUG for a second and ask ourselves why these macro market crashes started in either JAN or MAY of 2018?
A) In JAN of 2018, the "globally synchronized recovery" peaked and rolled in rate of change terms
B) In MAY of 2018, "global inflation" expectations peaked and rolled in rate of change terms
A good market-based proxy for inflation expectations is the CRB Commodities Index (because it has 19 commodities in it). It peaked in MAY of 2018 and has corrected almost the exact same as the NASDAQ has since (-11.1%).
Is all of this irony or interconnectedness?
Are there self-similar sets in motion as a result of growth and inflation expectations slowing?
"The scaling methodology introduced by Froude has now evolved to become a powerful and sophisticated component of the toolkit of science and engineering and has been applied with great effect to a very broad and diverse range of problems."
–Scale, pg 75
No offense to the wizards of Old Wall Street who are going to give me a magic market "multiple" for where the US stock market stops going down (after not telling me where it would stop going up), but I think I've moved on from that kind of debate.
In other real-time market and economic (data) news this morning:
Germany's preliminary y/y GDP for Q3 of 2018 slowed to +1.1% from +2.3%, so the peak of that cycle is in
Eurozone Industrial Production for SEP slowed to +0.9% y/y and continues to slow alongside China's economy
US Treasuries are falling, compressing the Yield Spread (10s minus 2s) back down to +25 basis points
You'd have to work at the ECB or without an internet connection to not know that Europe is slowing at this point. But what about the fine folks at the Fed? When are they going to wake up to the reality that they are tightening into Quad 4?
The aforementioned Yield Spread is indeed what Powell calls a "market signal", so if you think the recent 10 basis points of Yield Curve compression (since Oil crashed) is going to matter to markets, just wait until the Fed inverts the curve!
US Federal Reserve voters never kill inflation expectations for sport. They believe they save market lives. And while I believe the Powell Put is a lot lower, I also believe that they believe what they believe. So stay tuned for the Fed to flinch in 2019.

AROUND THE WORLD
GLOBAL GROWTH CONTINUES TO MEANINGFULLY DETERIORATE
This is an excerpt from an institutional research note written by Senior Macro analyst Darius Dale:
You tend to pick up on interesting, investable trends when you sequence thousands of time series, across dozens of economies on a consistent basis and the #1 thing that jumps out of the model to me today is just how slow global growth got to end 3Q, which should render the contagion that spread to U.S. equities in OCT even less of a surprise to investors (it obviously wasn't to us). Japanese and German Real GDP growth both contracted on a sequential basis in 3Q18, down -0.3% QoQ and -0.2% QoQ, respectively.

Global growth bulls are correct to point out that these contractions are more than likely due to temporary factors (e.g. typhoon and earthquake vs. auto production bottlenecks). That said, however, our proprietary comparative base effect process indicated YoY growth was more than likely to decelerate in these economies during this particular observation period as early as this time last year when the 3Q17 GDP data was released. And that's precisely what we saw upon release of the data:

Anyone who's been interacting with our research since January knows the global slowdown obviously hasn't been confined to the developed world and we received more confirmation of that story today: China's monthly high-frequency hard data were a wet Kleenex across the aggerates that mattered (i.e. incremental TRENDING deceleration across Retail Sales, Industrial Production, Fixed Assets Investment, and SOE Fixed Assets Investment).

Activity there clearly isn't moving the needle enough to surmount the broader "Green Monster" of comparative base effects in the "Old China" economy – the driver of the "Globally Synchronized Recovery" insomuch as the tough manufacturing and export comps it created elsewhere are the culprit for the current global slowdown. Remember, the trade war has largely had a positive impact on global trade thus due to broad preordering of inventories.

It's only going to get worse from here…
THE WEEK AHEAD
---
Global Economic Calendar 11 – 16 November
Global Economic Weekly Here for a long time, not a good time_Nove9
---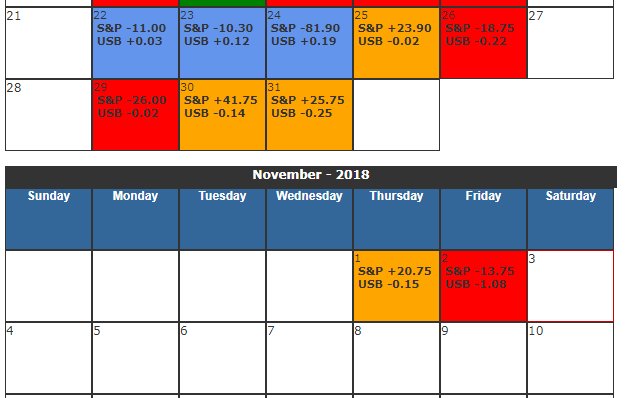 (Source: Daily Speculations – Mr. Vic Neiderhoffer) 
---
(Source: Daily Speculations – Mr. Vic Neiderhoffer) 
---